Joe Engler is the creator and editor of HistoricEvansville.com
The Brown's Master Market Grand Opening Near Riot.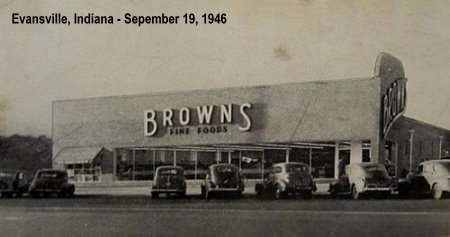 -
by Joe Engler

Brown's Fine Foods at 1301 West Franklin St was Evansville's largest grocery when it opened. Vernon A Brown plugged his store as a "master market", a grade above a supermarket and heavily advertised its grand opening, which took place on September 19, 1946.
Brown's new store boasted a clean interior with bright displays. The buzz about the grand opening saw 3,000 avid shoppers waiting outside for the doors to open. People lined up at 6 a.m. and by 8 a.m. the crowd extended a block down Franklin St and another block down Fifth Ave. Police were summoned and the police chief ordered barricades

Then it went bad..
The anxious shoppers trampled down barricades, pushed back a human wall of policemen, and threatened to cave in the glass front. Brown conferred with the police chief and agreed to close the doors until the crowd thinned. Attempts to let a small number of shoppers were stopped short as the crowd again swelled. Trucks were eventually called around 10 a.m. and formed a funnel to control the flow into the store. The rest of the day finished smoothly.
Ultimately no one was hurt, but it was one of the more intriguing store openings in Evansville's history. The store was closed some years later, and the building now serves as a training center for the local Sheet Metal Workers Union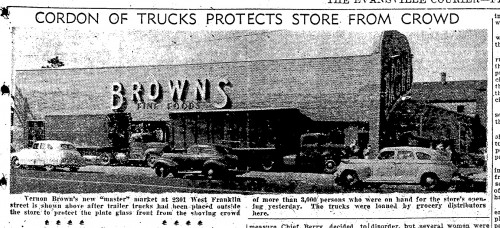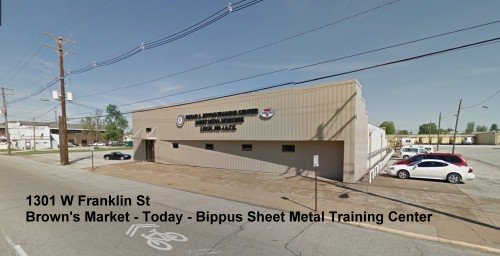 Historic Evansville - The definitive site for all things historic in Evansville, Indiana

Mr. Engler invites your comments.
Back to The Boneyard