Roberta Heiman was a professional journalist for 42 years and retired from the Evansville Courier and Press in 2014.
She is a member of the Southwestern Indiana League of Women Voters and a grandmother.
Sallie Wyatt Stewart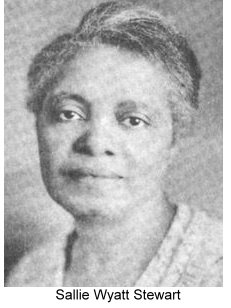 by Roberta Heiman

The Evansville Boneyard


Sallie Wyatt Stewart was doing what she loved, teaching in Evansville's elementary school for black children in 1903, when the worst race riot in the city's history threatened to turn her world upside down. The riot left 12 of her Baptistown neighbors dead and more than 25 wounded after a crowd of whites rampaged through the black neighbourhood seeking vigilante justice over the shooting of a white policeman. National Guard troops were brought in to patrol the city for nearly a week.
After that, there was a mass exodus of blacks from Evansville for several years in the early 1900s. But Sallie stayed. And in her determination to make things better, she became one of the most accomplished women in this city's history. By the 1920s she was a national leader in efforts to raise the standard of living for black women and their families across the country. But her hometown and its children were always her priority.
Sallie's husband, Logan Stewart, was the first black real estate agent in Evansville and helped organize the local Negro Business League, which was instrumental in establishing the Cherry Street YMCA. He and Sallie "made a formidable team in their commitment to enhancing the quality of life for blacks in Evansville," says an account in the African American National Biography. Known for her strong organizational skills, Sallie began by organizing the Evansville Federation of Colored Women's Clubs to address the needs and issues in the community. She led the group's effort in 1919 to establish the first daycare center for children of black working mothers, who were in the workforce long before most white women. She was a charter member and first secretary of the local NAACP chapter in 1915, and a charter member of Evansville's first Inter-Racial Commission, which she helped establish.
Focusing on youth, she led efforts in to establish the Phyllis Wheatley Home, a boarding house and recreation center for young black women coming to Evansville for jobs or schooling. The home, at 710 S. Eighth St., opened in 1923 and served more than 400 young women by 1930.
For years, Sallie led an annual fund drive to provide bank uniforms, musical instruments and athletic uniforms and equipment for Lincoln High School students. She organized a group that brought nationally known black artists and performers to Evansville. She worked to improve housing conditions, and helped establish the Boehne Camp Tuberculosis Hospital. TB was a major killer then and Sallie made sure there were beds for black patients. During World War II, she organized the local Colored Women's War Work Committee. The group sold bonds and stamps to help support the war and provided services for black soldiers passing through Evansville and those stationed at nearby Fort Campbell.
All those things she did while also teaching for more than 50 years, including serving as dean of girls at Lincoln High School from 1928 until 1951. And those were just her local activities. Her impact was on a national scale. From 1928 to 1933, Sallie was president of the 200,000-member National Association of Colored Women, succeeding the famous Mary McCleod Bethune. She travelled and lectured extensively. It was during her tenure that the organization established a youth auxiliary, the National Association of Colored Girls. She imposed a $2 membership fee for NACW to fund scholarships for the girls. She earlier had served as president of the Indiana Federation of Colored Women from 1921-1928, when she launched and edited "The Hoosier Woman" monthly newsletter and established several other Phyllis Wheatley Homes across the state..
She also was a trustee and secretary of the Frederick Douglas Memorial and Historical Association, for which she was a major fundraiser. She was the first black woman to be elected as vice president of the National Council of Women in the United States, was a delegate to the International Council of Women in Vienna, Austria, in 1930, and served on the executive committee of the National Negro Business League.
After her husband's death in 1929, she studied for and received a broker's license in 1930, making her the first African American woman in the country to gain a broker's license and to own a real estate brokerage firm.
Her many accomplishments overcame a childhood in poverty. Shortly after moving to Evansville from Tennessee in 1883, her father Armstead Wyatt became disabled. Sallie and her mother Eliza both worked as domestics to support the family, which included Sallie's seven younger siblings.
In 1897, at the age of sixteen, she graduated from Governor High School as valedictorian of her eleven-member class, then continued domestic work while attending Evansville Normal School, a two-year teacher training college. After becoming a teacher she continued to take summer courses at the University of Chicago and later at Evansville College.Although in later years the loss of a leg limited her mobility and she used a wheelchair, she continued to teach at Lincoln High until her retirement in June 1951, a month before her death.
Students who have cited her as an important influence include Elbert Frank Cox, the first African American to earn a PhD in mathematics.
Many Evansville residents today have never heard of this remarkable woman. But her legacy lives on. There is a growing acknowledgment today that Sallie Wyatt Stewart and other little-known African American women in the 20th Century formed the backbone of the civil rights movement in this country. As one historian wrote, "They were the critical mass, the grassroots leaders challenging America to embrace justice and equality for all."

The Boneyard invites your comments.
Back to The Boneyard
<