Evansville (In Old Indiana) - The Official Song of Evansville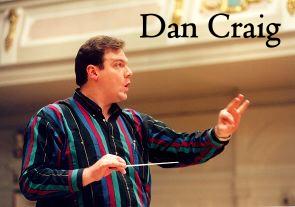 Listen to Evansville in Old Indiana
Daniel R. Craig is currently in his nineteenth year as the Director of Musical Activities at the University of Southern Indiana. He is the conductor of the USI Chamber Choir and the USI Women's Choir while also serving as a lecturer in the area of Music History and the producer of the USI Madrigal Feaste.
Under Mr. Craig's direction, the USI Chamber Choir has toured throughout the United States, Canada, Poland, Germany, and Ireland. Through the years the choir has won several awards and has participated in numerous festivals and competitions. In May 1999 the Chamber Choir completed its third European tour to Poland and Germany for a tour of Poznan, Berlin, Wroclaw, and Krakow.
In April 2001 the Chamber Choir toured to Toronto, Canada and in May 2002 the Chamber Singers returned from a very successful concert tour of Ireland. This tour included concerts in St. Patrick's Cathedral in Dublin, the Augustinian Order in Limerick, and St. Maelruains Church of Ireland in Tallaght. In 2004 the Chamber Choir returned to Ireland to sponsor local Irish charities with concerts in Cork, Limerick, and Galway.
In 2007 Mr. Craig was awarded a USI Faculty Research and Creative Award and a College of Liberal Arts grant to research Traditional Irish Song in Ireland. The resulting SEANNOS PROJECT culminated in five weeks of travel and research throughout Ireland. In 2008 the USI Chamber Choir and the Rowan Tree Irish Traditional Band returned to Ireland to perform arrangements of Irish Traditional Songs completed by Mr. Craig during his 2007 sabbatical trip to Ireland.
Mr. Craig also is in his fourteenth year as Director of Music at Old North United Methodist Church in Evansville where he directs the Chancel Choir and Youth Choir. During his tenure at Old North, he has also conducted the Evansville Ecumenical Choir, a group of singers from over forty local churches. Daniel has served as director of music ministries in the United Methodist, Presbyterian, Disciples of Christ, and Roman Catholic churches over the past twenty-five years.
Mr. Craig is a founding member of the Irish Traditional Group, Rowan Tree, where he sings and plays tin-whistle, recorder, and bodhran. Mr. Craig holds degrees from Murray State University (BA, Voice and Conducting, 1986) and the University of Illinois (MM Choral Conducting, 1989).
Prior to coming to USI, Mr. Craig was the Director of Choirs at Casper College, Casper, Wyoming. He has served as the guest conductor of the State of Wyoming Community Chorus, the Casper All-City High School Chorus, the Cantores Malborienses and Lutnia Choirs of Malbork, Poland, the Adam Mickiewicz University Chamber Choir, Poznan, Poland He has conducted clinics throughout the United States, Canada, and Poland, in university, church, secondary school choirs, and community choruses.
Daniel enjoys music composition, audio recording, and photography and is an avid bass fisherman. He is married to Clara Meadows Craig and has one daughter, Jennifer Anne Craig.

Contact Dan Craig


Back to The Boneyard